OsteoDex
The drug candidate OsteoDex is bifunctional. Through its bisphosphonate moiety it is enriched in those parts of the skeleton that are affected by metastases (daughter tumors). The enrichment of OsteoDex occurs through its binding to hydroxyapatite, where it exerts cytotoxic effect on the bone-resorbing normal cells (osteoclasts). The cytotoxic effect is mediated by the guanidine moiety in the OsteoDex molecule. The cytotoxic effect on osteoclasts causes an inhibitory effect on the vicious cycle in the skeleton. This vicious cycle, which is by far the most important stimulatory factor in the development of skeletal metastasis in prostate cancer patients, is formed by 1. the bone-resorbing osteoclasts; 2. the bone-forming osteoblasts; and, 3. the cancer cells. These three cell types stimulate each other by producing a variety of growth factors, which leads to increased growth and spread of the cancer cells. It is a well-known fact that essentially all patients who die of their prostate cancer do this through the bone-metastatic disease. In addition to its cytotoxic effect on the bone-resorbing osteoclasts, OsteoDex also exerts a direct cytotoxic effect on the tumor cells in the above-mentioned vicious cycle.
The cytotoxic effect of OsteoDex on tumor cells has been studied in pre-clinical in vitro and in vivo experiments, see below. OsteoDex, which has so far been given intravenously to more than 70 patients, has proven quite tolerable, with only a few drug-related side effects, see below. Data from the two clinical trials show, as expected, that the vicious cycle in bone is inhibited, and thus also the metastasis development.
Preclinical studies
To verify the mechanism of action for OsteoDex, DexTech conducted extensive preclinical studies. Zoledronic acid was used as positive control in a number of comparative studies. Zometa is the market leader bisphosphonate medication for treatment of osteoporosis and the prevention and delay of fractures caused by skeletal metastasis. Zometa is currently the most potent bisphosponate medication. The results showed that OsteoDex impairs cells that cause bone degradation just as effectively as Zometa (figure 1). But OsteoDex proved superior with regard to tumour cell-killing properties in studies of the effect on tumour growth (figure 2).
---
A comparative experiment was conducted in DexTech's apoptosis trial (programmed cell death) on living tumour cells. An example of the result is shown in the diagram below. The result showed no effect from Zoledronic acid (blue/left) but strong effect from OsteoDex (green/right) in the concentration range studied (figure 3).
---
In the event of CRPC, metastasis also develops in soft parts in addition to skeletal metastasis (soft parts = lymph glands, liver etc.). The same happens in the event of advanced breast cancer. To study whether OsteoDex can also have a positive effect on soft part metastasis, the following animal studies (mice) were conducted:
Tumour cells were implanted in the mammary gland tissue. When tumour growth appeared, half of the mice were treated with OsteoDex once weekly for five weeks. Tumour growth was continually measured during the study. Figure 4 shows the difference in tumour growth between treated rats (red line/lower) compared to an untreated control group (blue line/upper).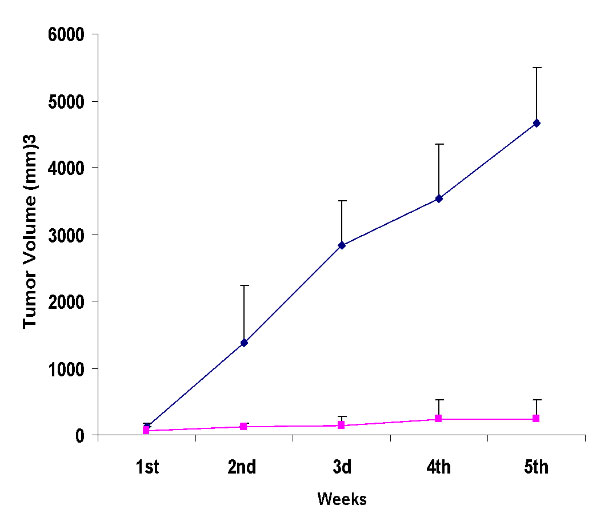 OsteoDex showed strong impairment of tumour growth.
---
OsteoDex is a targeting drug, i.e. it can be concentrated in bone metastases. It does so because a part of the OsteoDex molecule binds to bone mineral exposed in the bone metastasis. To verify the targeting concept, OsteoDex was labelled with a radioactive isotope (Technetium-99m) and injected into CRPC patients with known skeletal metastasis. Gamma camera images were then taken at various intervals. The study showed that OsteoDex concentrates in skeletal metastasis (left on the image lower/red marking figure 5). Studies conducted in Mexico by the company's associates.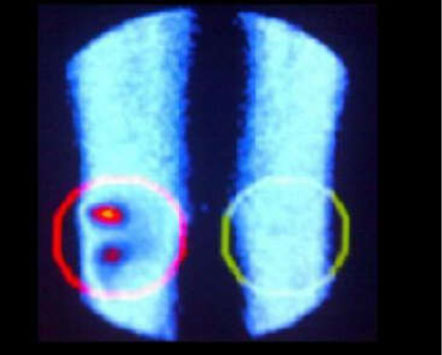 Phase I/IIa study conducted
A clinical phase I/IIa study was conducted in 2012/13. The primary objective was to study tolerability and possible side effects. The study was a multicentre study conducted at the University Hospitals of Umeå and Lund, and at Södersjukhuset, Stockholm South General Hospital. The study involved 28 CRPC patients divided into seven dose groups, four patients in each and with increasing doses. A strong effect on bone markers was observed in two of the four patients in the highest dose group in which effect was also studied. Bone markers often reflect the progress of tumour disease. The result is a strong indication that OsteoDex has the expected effect at a suitable dose (figure 6). OsteoDex has been shown to be well-tolerated with mild side effects.
Ongoing phase IIb trial
As a next step in development, a three-armed, randomized, double-blind Phase IIb study, ODX-003 (ClinicalTrials.gov Identifier: NCT02825628), has been initiated. All patients receive OsteoDex intravenously every 14 days for a maximum of 24 weeks and are randomized to one of three different dose levels (3, 6 and 9 mg / kg, respectively). The study is conducted in Sweden (3 hospitals), Finland (1 hospital), Estonia (2 hospitals) and Latvia (2 hospitals). The study, which will include 54-60 patients with bone metastatic castration-resistant prostate cancer (CRPC), is expected to be completed Q1 2018 and follow-up will then take place during the remaining part of 2018 according to study protocol (ClinicalTrials.gov Identifier: NCT02825628). Since the mechanism of action (MOA) mediates its effect on the osteoclasts in the vicious cycle in bone, we have already, with the (still unlinded) laboratory data received so far, been able to see a disease-inhibiting effect in the majority of patients. The company points out that these data are still preliminary and that a complete evaluation of study end-points can only be done when all patients have undergone their follow-up according to the study protocol and when the data have been un-blinded. Reporting of study data will be done according to PCWG3's (Prostate Cancer Working Group 3) internationally accepted recommendations. Quantification of bone metastases will be performed using the BSI (Bone Scan Index) for objective assessment of regression / progression of the disease.
Manufacture
DexTech can present a complete manufacturing method for OsteoDex to potential licensees, from bulk solutions to filled vials, all under the auspices of Good Manufacturing Practice. Low costs for ingredients and a relatively simple production process create the right conditions for potential licensees to acquire a competitive price with good margins for OsteoDex.
DexTech has contracted Biovian, located in Turku, Finland for production of substances for the phase IIb study.
Licensing
DexTech has identified and held preliminary discussions with several potential license partners. The objective is to sign license agreements during or in connection with the conclusion of the phase IIb study. A license agreement will result in payments to the company according to common business practice. The total value of such an agreement is expected to be significant.