OsteoDex
Candidate medication OsteoDex is bifunctional. It works as a bisphosponate (preventing the degradation of bone) and as a cytostatic (kills cancer cells). It is intended for treatment of skeletal metastasis in the event of castration resistant prostate cancer, CRPC. When a patient has metastasis in the skeleton, bone degradation and metastasis growth occur in the same location. Tumour cells and osteoclasts (cells that break down the skeleton) stimulate each other in a vicious circle. OsteoDex impairs bone breakdown, which reduces the stimulation and concurrently kills the tumour cells.
OsteoDex is a targeting drug, i.e. it concentrates in the skeleton where the metastasis is found. It does so because a part of the OsteoDex molecule binds to bone mineral exposed by the bone metastasis. OsteoDex proactively impairs disease, with the potential to extend survival.
DexTech's preclinical studies have also clearly shown that OsteoDex has a lot of potential for treatment of advanced breast cancer with skeletal metastasis. Preclinical results in animals indicated that OsteoDex also has significant activity against tumours in soft parts, despite it being specified for skeletal metastasis.
Preclinical studies
To verify the mechanism of action for OsteoDex, DexTech conducted extensive preclinical studies. Zoledronic acid (Zometa) was used as positive control in a number of comparative studies. Zometa is the market leader bisphosphonate medication for treatment of osteoporosis and the prevention and delay of fractures caused by skeletal metastasis. Zometa is currently the most potent bisphosponate medication. The results showed that OsteoDex impairs cells that cause bone degradation just as effectively as Zometa (figure 1). But OsteoDex proved superior with regard to tumour cell-killing properties in studies of the effect on tumour growth (figure 2).
---
A comparative experiment was conducted in DexTech's apoptosis trial (programmed cell death) on living tumour cells. An example of the result is shown in the diagram below. The result showed no effect from Zometa (blue/left) but strong effect from OsteoDex (green/right) in the concentration range studied (figure 3).
---
In the event of CRPC, metastasis also develops in soft parts in addition to skeletal metastasis (soft parts = lymph glands, liver etc.). The same happens in the event of advanced breast cancer. To study whether OsteoDex can also have a positive effect on soft part metastasis, the following animal studies (rats) were conducted:
Tumour cells were implanted in the mammary gland tissue. When tumour growth appeared, half of the rats were treated with OsteoDex once weekly for five weeks. Tumour growth was continually measured during the study. Figure 4 shows the difference in tumour growth between treated rats (red line/lower) compared to an untreated control group (blue line/upper).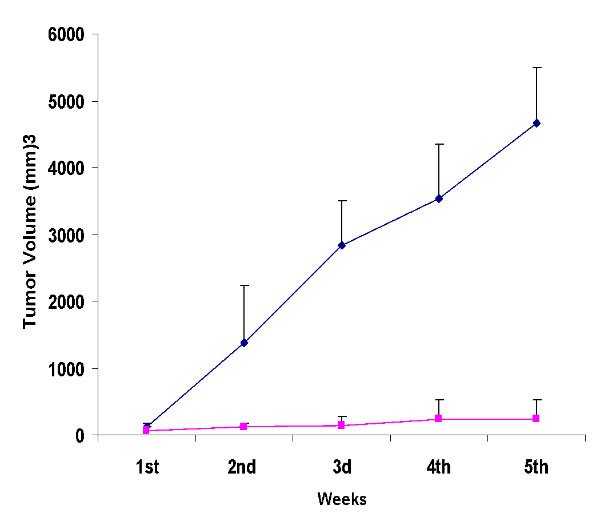 OsteoDex showed strong impairment of tumour growth, which indicates that it also has a positive therapeutic effect on soft part metastasis.
---
OsteoDex is a targeting drug, i.e. it can be concentrated at the point in the skeleton where the metastasis is found. It does so because a part of the OsteoDex molecule binds to bone mineral exposed by the bone metastasis. To verify the targeting concept, OsteoDex was labelled with a radioactive isotope (Technetium-99m) and injected into CRPC patients with known skeletal metastasis. Gamma camera images were then taken at various intervals. The study showed that OsteoDex concentrates in skeletal metastasis (left on the image lower/red marking figure 5). Studies conducted in Mexico with the company's associates.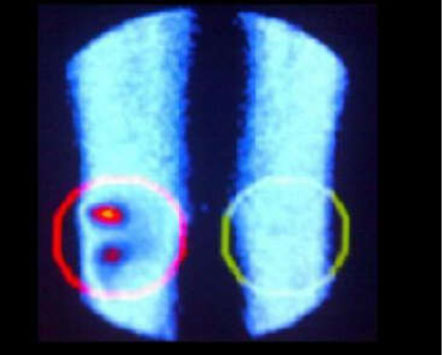 Phase I/IIa study conducted
A clinical phase I/IIa study was conducted in 2012/13. The primary objective was to study tolerability and possible side effects. The study was a multicentre study conducted at the University Hospitals of Umeå and Lund, and at Södersjukhuset, Stockholm South General Hospital. The study involved 28 CRPC patients divided into seven dose groups, four patients in each and with increasing doses. A strong effect on bone markers was observed in two of the four patients in the highest dose group in which effect was also studied. Bone markers often reflect the progress of tumour disease. The result is a strong indication that OsteoDex has the expected effect at a suitable dose (figure 6). OsteoDex has been shown to be well-tolerated with mild side effects.
Planed phase IIb study
The next step in development is a phase IIb study to investigate how effective OsteoDex is for the treatment of CRPC. A Nordic multicentre study is being planned with Umeå University Hospital, Herlev Hospital in Copenhagen and Södersjukhuset as study centres. DexTech will use the same CRO company as for the phase I/IIa study, SynteractHCR Inc.
A lot of emphasis is placed on study design to ensure an unambiguous result with regards to therapeutic effect. In this context, it is relevant that Sten Nilsson (founder and board member) along with colleagues designed and conducted the Algeta/Bayer "First-in-man-study" and subsequently randomised phase IIb study for Alpharadin (Radium-223), now marketed under the name of Xofigo. Nilsson took part in the design and conducting of Alpharadin's (Xofigo's) phase III study (ALSYMPCA). Xofigo achieved market authorisation from the FDA in May 2013 and from the EMA in December 2013. Nilsson thus has valuable experience within successful study design and conducting clinical studies for new preparations within this field.
The planned phase IIb study will include 60-80 well-defined CRPC patients. The patients will be divided between two therapy arms (blind distribution). Treatment is planned to be given every other week for max. 24 weeks. The study is intended to run for around 24 months, starting in the autumn of 2014. All patients taking part in the study will be given access to the best available standard treatment (Best-Standard-of-Care). During participation in the study, the patients will be monitored extremely closely. OsteoDex/placebo will be given as an extra treatment (Add-On). Upon signs of disease progression, the patient will be offered continued best standard-of-care (BSC), suitable for the situation in question.
Manufacture
DexTech can present a complete manufacturing method for OsteoDex to potential licensees, from bulk solutions to filled vials, all under the auspices of Good Manufacturing Practice. Low costs for ingredients and a relatively simple production process create the right conditions for potential licensees to acquire a competitive price with good margins for OsteoDex.
DexTech has contracted Biovian, located in Turku, Finland for production of substances for the phase IIb study.
Licensing
DexTech has identified and held preliminary discussions with several potential license partners. The objective is to sign license agreements during or in connection with the conclusion of the phase IIb study. A license agreement will result in payments to the company according to common business practice. The total value of such an agreement is expected to be significant.